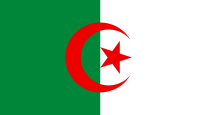 Algeria - Payroll
by
Osis
You bought this module and need support ? Click here !
Technical name
l10n_dz_hr_payroll
Website
http://www.osis-dz.net/
Repository
https://github.com/Osis-dz/odoo#10.0
Required Apps
•

Leave Management (hr_holidays)


•

Employee Directory (hr)


•

Invoicing (account)


•

Sales (sale)



Included Dependencies
Show
This is the module to manage Algeria payslip in Odoo.
This module applies to companies based in Algeria.
All main contributions rules for Algeria payslip.
New payslip report.
New statistic report.
Please log in to comment on this module
This section is meant to ask simple questions or leave a rating.
This author can leave a single reply to each comment.
If you want to start a discussion with the author, please use the developer contact information. They can usually be found in the description. Odoo Server Error Traceback (most recent call last): File "C:\Program Files (x86)\Odoo 10.0\server\odoo\http.py", line 641, in _handle_exception File "C:\Program Files (x86)\Odoo 10.0\server\odoo\http.py", line 683, in dispatch File "C:\Program Files (x86)\Odoo 10.0\server\odoo\http.py", line 333, in _call_function File "C:\Program Files (x86)\Odoo 10.0\server\odoo\service\model.py", line 101, in wrapper File "C:\Program Files (x86)\Odoo 10.0\server\odoo\http.py", line 326, in checked_call File "C:\Program Files (x86)\Odoo 10.0\server\odoo\http.py", line 941, in __call__ File "C:\Program Files (x86)\Odoo 10.0\server\odoo\http.py", line 506, in response_wrap File "C:\Program Files (x86)\Odoo 10.0\server\odoo\addons\web\controllers\main.py", line 894, in call_button File "C:\Program Files (x86)\Odoo 10.0\server\odoo\addons\web\controllers\main.py", line 882, in _call_kw File "C:\Program Files (x86)\Odoo 10.0\server\odoo\api.py", line 689, in call_kw File "C:\Program Files (x86)\Odoo 10.0\server\odoo\api.py", line 680, in call_kw_multi File "C:\Program Files (x86)\Odoo 10.0\server\odoo\addons\base\module\module.py", line 411, in button_immediate_install File "C:\Program Files (x86)\Odoo 10.0\server\odoo\addons\base\module\module.py", line 485, in _button_immediate_function File "C:\Program Files (x86)\Odoo 10.0\server\odoo\modules\registry.py", line 83, in new File "C:\Program Files (x86)\Odoo 10.0\server\odoo\modules\loading.py", line 339, in load_modules File "C:\Program Files (x86)\Odoo 10.0\server\odoo\modules\loading.py", line 237, in load_marked_modules File "C:\Program Files (x86)\Odoo 10.0\server\odoo\modules\loading.py", line 156, in load_module_graph File "C:\Program Files (x86)\Odoo 10.0\server\odoo\modules\loading.py", line 95, in _load_data File "C:\Program Files (x86)\Odoo 10.0\server\odoo\tools\convert.py", line 845, in convert_file File "C:\Program Files (x86)\Odoo 10.0\server\odoo\tools\convert.py", line 915, in convert_xml_import File "C:\Program Files (x86)\Odoo 10.0\server\odoo\tools\convert.py", line 796, in parse File "C:\Program Files (x86)\Odoo 10.0\server\odoo\tools\convert.py", line 799, in parse File "C:\Program Files (x86)\Odoo 10.0\server\odoo\tools\convert.py", line 707, in _tag_record File "C:\Program Files (x86)\Odoo 10.0\server\odoo\addons\base\ir\ir_model.py", line 1229, in _update File "C:\Program Files (x86)\Odoo 10.0\server\odoo\addons\account\models\account.py", line 481, in create File "C:\Program Files (x86)\Odoo 10.0\server\odoo\models.py", line 3826, in create File "C:\Program Files (x86)\Odoo 10.0\server\odoo\models.py", line 3921, in _create File "C:\Program Files (x86)\Odoo 10.0\server\odoo\sql_db.py", line 154, in wrapper File "C:\Program Files (x86)\Odoo 10.0\server\odoo\sql_db.py", line 231, in execute ParseError: "ERREUR: une instruction insert ou update sur la table \xab account_journal \xbb viole la contrainte de cl\xe9 \xe9trang\xe8re \xab account_journal_default_credit_account_id_fkey \xbb DETAIL: La cl\xe9 (default_credit_account_id)=(1525) n'est pas pr\xe9sente dans la table \xab account_account \xbb. " while parsing file:///c:/program files (x86)/odoo 10.0/server/odoo/addons/l10n_dz_hr_payroll/data/l10n_dz_hr_payroll_data.xml:27, near Payroll employee PYEM general
---
--- ---