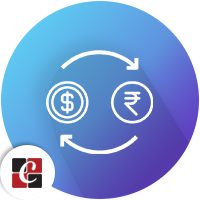 You bought this module and need support ? Click here !
XE Currency Converter
Convert currency rates in real-time.
Key Highlights
Currency converter for Odoo12 community edition.
Convert 180+ currencies.
Get accurate currency rates for every world currency.
Globally trusted exchange rates of currency.
Daily / Live rates.
Overview
---
This module brings you an XE Currency Converter featuring easy convertion of business currencies in real-time.

Convert your currencies by using the currency exchange platform xe.com



XE Currency Converter
Available in Odoo 12.0 community edition.
Easy activation and deactivation of the update.
Convert 180+ currencies.
This module uses an internal ir.cron feature from Odoo to schedule conversion activity.
Cron job is launched once the server is started.
To enable/disable XE currency converter, go to Invoicing > Configuration > Settings > Enable/Disable Live Currency Update.Then click on update button.
After that, check the currency rate.
Cron job for scheduling the activity.
Default 3