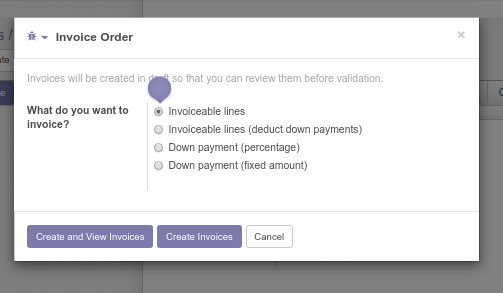 Skip Create-Invoice Wizard in Quotations and Sales Orders | Create Invoice from Sale Order
by
GYB IT SOLUTIONS
You bought this module and need support ? Click here !
Note:
This module is successfully works in Community Editions only.
Skip Create Invoice Wizard in Quotations and Sales Orders
  With Odoo default sale functionality, User can create customer-invoice from Create Invoice button in Quotations/Sales Orders.
  It will open a pop up and asking for option for creating customer-invoice. Sometime we dont need to go with this functionaliy.
  So this app helps to avoid this pop up and allow to create customer-invoice directly.

  In this App.

Skipped default functionality to create customer-invoice from Quotation/Sales Order.
Create Invoice button helps to create customer-invoice based on Quotation/Sales Order.
Easy to create customer-invoice. With once click, user can create customer-invoice
Let's open a Sale-Order. Path: Sales/Sales/Sales Orders. Create Invoice button.
Other information page's data of SO. This data also pass to customer-invoice.
Now click on Create Invoice button. It will create a new customer-invoice.
User can view this invoice with Smart button of Invoices from current Sale-Order's form view.
Lets open new created invoice. It will open from the odoo smart button and also user can open from Invoicing/Sales/Customer Invoices.
New invoice's state will be Draft state.
Lets check Other info Page.