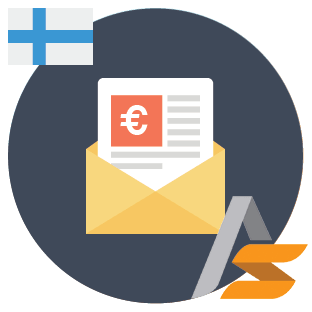 You bought this module and need support ? Click here !
Finnish Invoice Template
The module that makes the PDF invoice look good
What's in it?
A beautiful invoice template that
meets the Finnish invoicing regulations,
generates invoice reference number,
generates payment barcode,
...you name it
Kaunis suomalainen Odoo-laskupohja, joka
vastaa Suomen laskuvaatimuksia,
muodostaa maksuviitteen,
muodostaa maksamista helpottavan viivakoodin,
...ja paljon muuta.
How does the module work
The installation of the module adds a new PDF template, that can be used for printing and emailing invoices. Please note that using this template with email requires setting the invoice template to the email template manually.
If you are not satisfied, which we doubt, you can easily uninstall the module, and bring the old default template back.
So, how does it really look like?
Behold your new invoice template!
Please log in to comment on this module Odoo 11
Hi. Does this work with odoo 11? Thanks
---