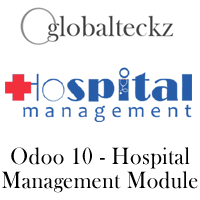 You bought this module and need support ? Click here !
Technical name
globalteckz_hospital_manangement
License
See License tab
Website
https://www.globalteckz.com
Read description for

v 12.0

Required Apps
•

Inventory Management (stock)


•

Invoicing (account)


•

Purchase Management (purchase)


•

Employee Directory (hr)


•

Sales (sale)



Technical name
globalteckz_hospital_manangement
License
See License tab
Website
https://www.globalteckz.com
Read description for

v 12.0

Required Apps
•

Inventory Management (stock)


•

Invoicing (account)


•

Purchase Management (purchase)


•

Employee Directory (hr)


•

Sales (sale)



Odoo 11 Hospital Management System solution with accounting and invoicing
Globalteckz Hospital Management system module is one of the important software which helps you to manage your hospitals and clinics including Hospital billing, purchases, inventory, patient, Accounting, Diseases and many more . . Our team after extensive research on Healthcare industry tried covering most of the aspects in our hospital management module further all our modules are linked with one of the leading open source ERP Modules such as Sales, Purchase, Inventory,Human Resource, Accounting and so on creating it as one of the complete ERP software package for Hospital and Clinical Industries.
Since Odoo is a web based ERP one of the biggest advantage you get of using our module is to have a web based Hospital Information Management system. With a complete ERP suite of software module to computerize any large scale hospital and connect with its clinics and its branches. It is fully online web based software. The information is available anytime, anywhere. Our module is fully customizable or additional features which are not available as of now can be created easily making it User friendly, Highly versatile, Quick installable, Completely Database driven, Centralized Database, Hospital Information Management System ERP software available in the market today,Please take a look on the features described below in our Odoo Module.
This module provides you with following features
Health Center Management
Hospital Buildings Management
Wards management
Bed Management
Operation Room
Apothecary
Domiciliary Units
Patient - OutPatient Admissions
Patient - InPatient Admissions
Vaccines
Call Logs
Physicians & Appointments
Physicians Management
Appointments
Prescriptions
Evaluations
Pediatrics
Newborns
Surgeries
Insurances
Laboratory
Lab Tests
Imaging
Imaging Tests
Configuration
Physicians
Specialties
Degrees
Laboratory
Pathology
Diseases
Disease Categories
Health & Products
Medicines
We have other specific version connectors too that performs similar functions such as
We offer Magento and Odoo customizations too incase needed
Free Support
In case you face any issues with the module after installation, You will be provided with Free support in case any bugs or support while installing and testing the module.
Get Free Odoo Consultancy
Our team at Globalteckz is not only bound to provide support for this particular app. Incase of any other issues related to Odoo or Magento you would like to discuss feel free to connect with us via email – info@globalteckz.com. We ensure you proper Odoo Consultancy for the development of the solution.
About Globalteckz :
Globalteckz is an official Odoo partner completed more than 80+ Odoo projects across the globe. Quality is key of our coding and we follow strict rules on Odoo Standard coding ensuring every module is bug free. At GlobalTeckz we specialize in providing ERP implementation using the best of industry methodology that ensures successful ERP implementation. Be it manufacturing trading or eCommerce industry our resource thrive to make every project success for our clients.
If you feel that this module can be helpful for your business feel free to email us on sales@globalteckz.com or raise a ticket on support
Odoo Proprietary License v1.0

This software and associated files (the "Software") may only be used (executed,
modified, executed after modifications) if you have purchased a valid license
from the authors, typically via Odoo Apps, or if you have received a written
agreement from the authors of the Software (see the COPYRIGHT file).

You may develop Odoo modules that use the Software as a library (typically
by depending on it, importing it and using its resources), but without copying
any source code or material from the Software. You may distribute those
modules under the license of your choice, provided that this license is
compatible with the terms of the Odoo Proprietary License (For example:
LGPL, MIT, or proprietary licenses similar to this one).

It is forbidden to publish, distribute, sublicense, or sell copies of the Software
or modified copies of the Software.

The above copyright notice and this permission notice must be included in all
copies or substantial portions of the Software.

THE SOFTWARE IS PROVIDED "AS IS", WITHOUT WARRANTY OF ANY KIND, EXPRESS OR
IMPLIED, INCLUDING BUT NOT LIMITED TO THE WARRANTIES OF MERCHANTABILITY,
FITNESS FOR A PARTICULAR PURPOSE AND NONINFRINGEMENT.
IN NO EVENT SHALL THE AUTHORS OR COPYRIGHT HOLDERS BE LIABLE FOR ANY CLAIM,
DAMAGES OR OTHER LIABILITY, WHETHER IN AN ACTION OF CONTRACT, TORT OR OTHERWISE,
ARISING FROM, OUT OF OR IN CONNECTION WITH THE SOFTWARE OR THE USE OR OTHER
DEALINGS IN THE SOFTWARE.

Please log in to comment on this module Pharmacy option
Hi, Is there Pharmacy option in this module?
--- Cost of App
Am sure if the price is reduced more people will purchase and can spend time to modify to suit their needs. rather than asking for so much features.
--- Health insurance Settings And reports
I can see that this app has a section for health insurance and family members listings... But does it have a setting for treatment allowed per insurance plans? And maximum spend per individual or per family per plan? I am also interested in seeing screenshots of patients medical history, payment history and other medical reports.
---