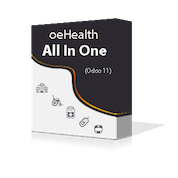 You bought this module and need support ? Click here !
Technical name
oehealth_all_in_one
License
See License tab
Website
http://oehealth.in
Read description for

v 12.0

v 10.0

Required Apps
•

Invoicing (account)


•

Invoicing Management (account_invoicing)


•

Purchase Management (purchase)


•

Employee Directory (hr)


•

Sales (sale)


•

Inventory Management (stock)



Technical name
oehealth_all_in_one
License
See License tab
Website
http://oehealth.in
Read description for

v 12.0

v 10.0

Required Apps
•

Invoicing (account)


•

Invoicing Management (account_invoicing)


•

Purchase Management (purchase)


•

Employee Directory (hr)


•

Sales (sale)


•

Inventory Management (stock)



oeHealth All In One
Complete set of powerful features from oeHealth & oeHealth Extra Addons
oeHealth is a combination of world class features & robust Odoo based EMR & HMS hospital management solutions. Since it's inception from 2014, oeHealth becomes the most popular choice around the globe for our clients spanning from different parts of the world.
320+
Copies Sold
(Website + Odoo Store)
32+
Customization
projects
1.5K
Hours of
customization
Record complete details of your patients
Manage your patients with their important details including family info, prescriptions, appointments, diseases, insurances, lifestyle,mental & social status,lab test details, invoices and surgical histories.
Manage Physicians
Administer all your doctors with their complete details, weekly consultancy schedule, prescriptions, inpatient admissions and many more.
Schedule Appointments
Doctors and patients can manage their appointments as oeHealth is tightly integrated with Odoo's calendar control so you will be always updated for your upcoming schedules.
Laboratory Management
Configure all your lab test parameters once with their ranges to quickly generate your test result. Get 9 most widely used laboratory tests already preconfigured within the package.
Inpatient Administration
Manage inpatient hospitalisation, wards and beds reservations, add therapeutic diets beliefs, nursing plans and discharge plans. Automatically raise payment notification at the time of discharge.
Invoicing & Accounting Integration
oeHealth is tightly integrated with Odoo's official Accounting module. You can easily raise invoices for services like Doctor's consultations, Prescriptions, Lab test & Inpatient admissions directly from the package and manage different accounting tasks of your care center.
Pediatrics Management
Record full details for Newborn baby and perform the APGAR tests required immediately after the birth. Physician can also manage Pediatrics Symptom Checklist (PSC) to evaluate growth of the child.
Surgical Management
Configure all the operation theatres of your health centre and record required information before and after performing surgeries. You can record the team involved in the surgery and can also manage medical supplies used during each operation.
Imaging Management
Management of different imaging tests like X-Ray, Ultrasound, MRI, CT Scan and PET Scan. Print the test report and finally raise an invoice for each test. The module pre-configured with required imaging tests and also allows you to configure your own tests.
Other Key Features
HOSPITALS
Suitable for Multi-speciality hospitals, Nursing homes or Care centers. Manage basic information like number of buildings, wards, beds, operation theaters and their availability status.
EVALUATIONS
Evaluate your patients on periodic basis and record their vital signs, mental status, symptoms, diagnosis details and other important information everything in one place.
SOCIOECONOMICS
Record all the social factors of a patient like living conditions, education level, family affection & drug addiction that influence the health.
PRESCRIPTIONS
Intuitive way to prepare prescription report by listing medicines with the require dosage and frequency information for each. Automatically forward prescription info to in-house pharmacy and invoicing details to accounts department.
GENETICS
Management of patient's Genetic and Hereditary risks using over pre-configured 4200 genes related to diseases (NCBI / Genecards).
REPORTING
Perform analysis of your health center with use of various important reports like patient's medicines and diseases history, prescription, evaluation report, lab testing result report and many more.
NURSING
"Nurse" user type that helps to manage different administrative work of your care centers like Appointments, Walkins, Patient Call logs, Surgeries and many more.
PATIENT CALL LOGS
oeHealth allows you to manage and record all the inbound call logs information of different patients for future references.
OPHTHALMOLOGY
Separately input all the findings of Left & Right eye with the required parameters during each visit and also print the evaluation report.
WALKINS
Record complete details of walkin appointments for your patients with details of all the previous evaluations, lab tests, inpatient admissions and prescriptions info.
AMBULATORY CARE
The module provides outpatient care management including diagnosis, consultation, procedures, vital signs and medicines stocks.
CONFIGURATION
Easily scale and streamline your health center services by managing different operations of your oeHealth instance with use of intuitive settings.
Support
Kindly use following channels to get support or view demo of the module
We are very much committed to provide the best support for our clients for any type of help required. Unfortunately, we do not receive notifications of any comments posted directly on this page and because of that we would not be able to provide timely support to you if you post a comment here. Hence, we request you to use the following channels or directly email us at info@oehealth.in to share your details with us. Thank you !!
View Demo
Get Support or Ask Questions
Odoo Proprietary License v1.0

This software and associated files (the "Software") may only be used (executed,
modified, executed after modifications) if you have purchased a valid license
from the authors, typically via Odoo Apps, oeHealth.in, openerpestore.com or if you have received a written agreement from the authors of the Software (see the COPYRIGHT file).

You may develop Odoo modules that use the Software as a library (typically
by depending on it, importing it and using its resources), but without copying
any source code or material from the Software. You may distribute those
modules under the license of your choice, provided that this license is
compatible with the terms of the Odoo Proprietary License (For example:
LGPL, MIT, or proprietary licenses similar to this one).

It is forbidden to publish, distribute, sublicense, or sell copies of the Software
or modified copies of the Software.

The above copyright notice and this permission notice must be included in all
copies or substantial portions of the Software.

THE SOFTWARE IS PROVIDED "AS IS", WITHOUT WARRANTY OF ANY KIND, EXPRESS OR
IMPLIED, INCLUDING BUT NOT LIMITED TO THE WARRANTIES OF MERCHANTABILITY,
FITNESS FOR A PARTICULAR PURPOSE AND NONINFRINGEMENT.
IN NO EVENT SHALL THE AUTHORS OR COPYRIGHT HOLDERS BE LIABLE FOR ANY CLAIM,
DAMAGES OR OTHER LIABILITY, WHETHER IN AN ACTION OF CONTRACT, TORT OR OTHERWISE,
ARISING FROM, OUT OF OR IN CONNECTION WITH THE SOFTWARE OR THE USE OR OTHER
DEALINGS IN THE SOFTWARE.


Please log in to comment on this module
is it posible configure the system for hipaa compliance?
--- Reply to @Amitendra Singh
Dear Amitendra, As we mentioned above we would request you to contact our support team at info@oehealth.in with the details of the error you are facing. Our team will closely work with you to resolve the issue and performing the successful installation. Regards, Braincrew Apps Team
--- Showing error in case of installing on Enterprise version of Odoo 11
Error while importing module 'oehealth_all_in_one': 'Error while validating constraint\n\nField `is_insurance_company` does not exist\n\nError context:\nView `res.partner.form`\n[view_id: 1502, xml_id: n/a, model: res.partner, parent_id: 112]\nNone\n\n res.partner.form\n res.partner\n \n \n \n \n \n \n \n \n \n \n \n \n \n \n \n \n \n/tmp/tmp0uhsqn5y/oehealth_all_in_one/oeh_medical/views/res_partner_view.xml\n5'
--- Reply to @Cyrus
Thank you for purchasing our module and also contacting us on our correct support channel for your query. We glad that we connected on Skype and found that you have not placed the module correctly on the addons folder and not followed the installation steps correctly. But during our call, we managed to resolved it and we are happy that module installed perfectly at your side. Thank you again for business with us. Regards, Braincrew Apps Team
--- Major Concern
We just recently purchased oeHealth all in one 11 and tried to install it in Odoo 11 Community version but its not working. I have followed the steps in the oeHealth Faq website. Please provide detailed infor on how to install oeHealth in Odoo.
--- Hi, is this available for v8? Thanks.
--- Reply to @easy
Hello, Thank you for contacting us for your query. As per Odoo's structure, all the plugins that you buy here comes with the source code. Please review "License" tab for complete details to make sure you are not violating any terms. Regards, Braincrew Apps Team
---
buy with source code?
hi, sir, I want to know ,the liense buyed includeing sourcecode? Thanks.
---