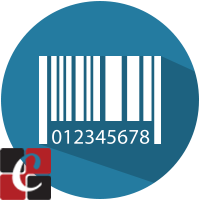 You bought this module and need support ? Click here !
Product Barcode Generator
Generates EAN13 Standard Barcode for Product
Features:
→

   Generates Barcode Automatically.

→

   Print Variant Price on Product Labels.

→

   Print Variant Name on Product Labels.
Overview
The module automatically generates EAN13 standard barcode for each product while you create it. The module also introduces a new feature to print product variant price on the product label. Presently Odoo doesn't have these features.
Product Master
☛ Create a Product.

Product Labels
☛ Variant name on label.
☛ Variant sale price on label.

Please log in to comment on this module error
Error: Odoo Server Error Traceback (most recent call last): File "/opt/odoo/odoo/odoo/models.py", line 1108, in _validate_fields check(self) File "/opt/odoo/odoo/odoo/addons/base/models/ir_ui_view.py", line 345, in _check_xml view_def = view.read_combined(['arch']) File "/opt/odoo/odoo/odoo/addons/base/models/ir_ui_view.py", line 784, in read_combined arch = self.apply_view_inheritance(arch_tree, root.id, self.model) File "/opt/odoo/odoo/odoo/addons/base/models/ir_ui_view.py", line 732, in apply_view_inheritance source = self.apply_inheritance_specs(source, specs_tree, view_id) File "/opt/odoo/odoo/odoo/addons/base/models/ir_ui_view.py", line 710, in apply_inheritance_specs self.raise_view_error(_("Element '%s' cannot be located in parent view") % tag, inherit_id) File "/opt/odoo/odoo/odoo/addons/base/models/ir_ui_view.py", line 548, in raise_view_error raise ValueError(message) ValueError: Element '' cannot be located in parent view Error context: View `report_simple_label` [view_id: 1091, xml_id: n/a, model: n/a, parent_id: 507] During handling of the above exception, another exception occurred: Traceback (most recent call last): File "/opt/odoo/odoo/odoo/tools/convert.py", line 757, in parse self._tags[rec.tag](rec, de, mode=mode) File "/opt/odoo/odoo/odoo/tools/convert.py", line 735, in _tag_template return self._tag_record(record, data_node) File "/opt/odoo/odoo/odoo/tools/convert.py", line 662, in _tag_record record = model.with_context(rec_context)._load_records([data], self.mode == 'update') File "/opt/odoo/odoo/odoo/models.py", line 3838, in _load_records records = self._load_records_create([data['values'] for data in to_create]) File "/opt/odoo/odoo/odoo/models.py", line 3752, in _load_records_create return self.create(values) File "", line 2, in create File "/opt/odoo/odoo/odoo/api.py", line 452, in _model_create_multi return create(self, arg) File "/opt/odoo/odoo/odoo/addons/base/models/ir_ui_view.py", line 428, in create return super(View, self).create(vals_list)
--- cannot install the module on odoo 12, windows version
The following errors found when installing on odoo 12, window version. How can I solve it? Thank you. Error: Odoo Server Error Traceback (most recent call last): File "C:\Program Files (x86)\Odoo 12.0\server\odoo\models.py", line 1108, in _validate_fields check(self) File "c:\program files (x86)\odoo 12.0\server\odoo\addons\base\models\ir_ui_view.py", line 345, in _check_xml view_def = view.read_combined(['arch']) File "c:\program files (x86)\odoo 12.0\server\odoo\addons\base\models\ir_ui_view.py", line 784, in read_combined arch = self.apply_view_inheritance(arch_tree, root.id, self.model) File "c:\program files (x86)\odoo 12.0\server\odoo\addons\base\models\ir_ui_view.py", line 732, in apply_view_inheritance source = self.apply_inheritance_specs(source, specs_tree, view_id) File "c:\program files (x86)\odoo 12.0\server\odoo\addons\base\models\ir_ui_view.py", line 710, in apply_inheritance_specs self.raise_view_error(_("Element '%s' cannot be located in parent view") % tag, inherit_id) File "c:\program files (x86)\odoo 12.0\server\odoo\addons\base\models\ir_ui_view.py", line 548, in raise_view_error raise ValueError(message) ValueError: Element '' cannot be located in parent view .....(deleted because of too many words)
--- --- Error: Odoo Server Error Element '' cannot be located in parent view Error context: View `report_simple_label` [view_id: 1172, xml_id: n/a, model: n/a, parent_id: 507] None" while parsing None:5, near
[]
--- Error appears
Error: Odoo Server Error Traceback (most recent call last): File "C:\Program Files (x86)\Odoo 12.0\server\odoo\models.py", line 1108, in _validate_fields check(self) File "c:\program files (x86)\odoo 12.0\server\odoo\addons\base\models\ir_ui_view.py", line 345, in _check_xml view_def = view.read_combined(['arch']) File "c:\program files (x86)\odoo 12.0\server\odoo\addons\base\models\ir_ui_view.py", line 783, in read_combined arch = self.apply_view_inheritance(arch_tree, root.id, self.model) File "c:\program files (x86)\odoo 12.0\server\odoo\addons\base\models\ir_ui_view.py", line 732, in apply_view_inheritance source = self.apply_inheritance_specs(source, specs_tree, view_id) File "c:\program files (x86)\odoo 12.0\server\odoo\addons\base\models\ir_ui_view.py", line 710, in apply_inheritance_specs self.raise_view_error(_("Element '%s' cannot be located in parent view") % tag, inherit_id) File "c:\program files (x86)\odoo 12.0\server\odoo\addons\base\models\ir_ui_view.py",
---