Starting version 13.0, every version of the module is bought separately. Please be careful when adding the product to your cart.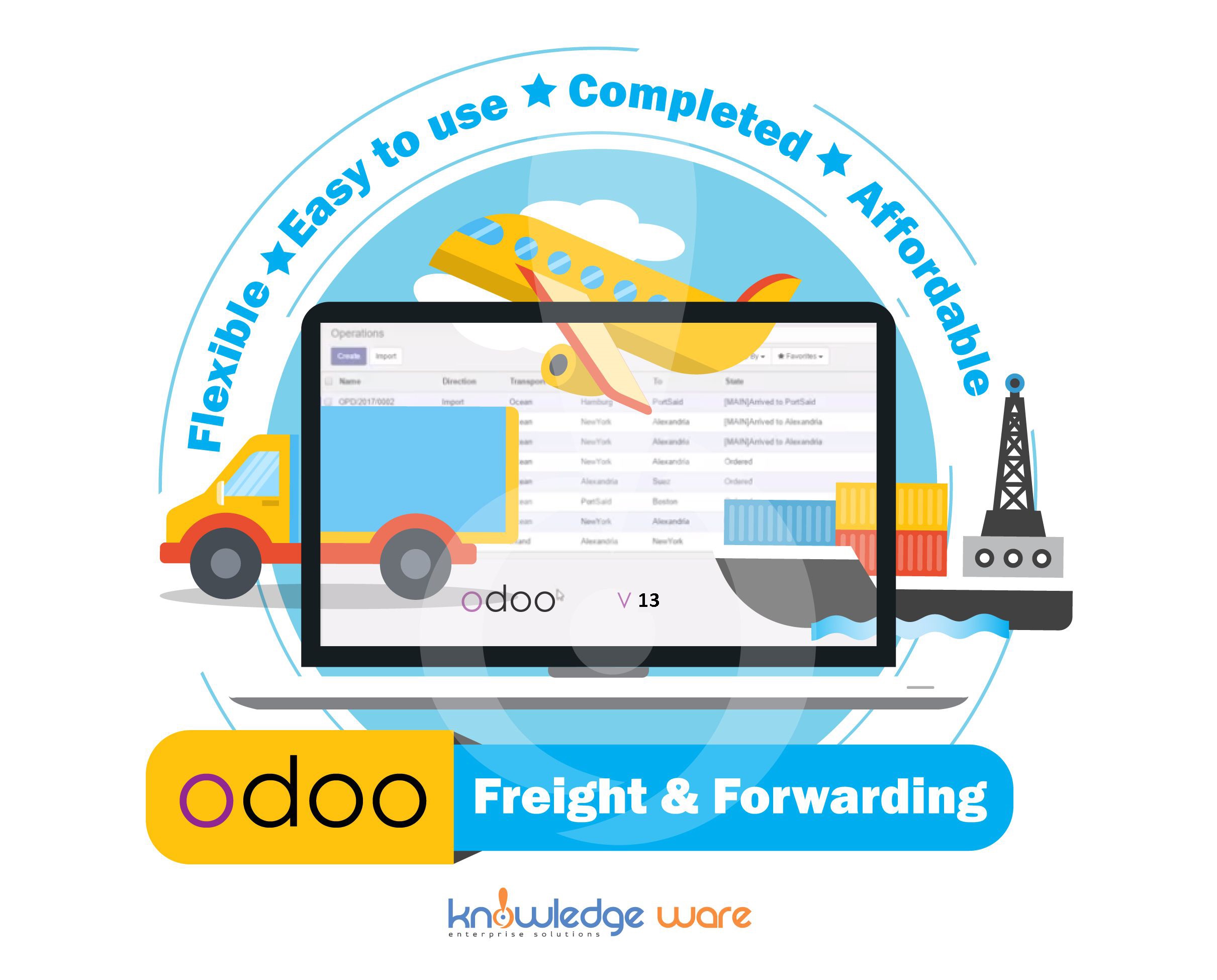 Required Apps

Invoicing (account)



Technical Name
freight_management
Also available in version

v 12.0

v 11.0

v 10.0
You bought this module and need
support
?
Click here!
1. We start by defining some configurations, that are essencial for the operation entry. Through the configuration menue, Ports, Vessels, and Packages.
2. Our configurations are ready... Let's start with the operation now:
In operation we need to determin which Freight operation type are we intending to do Direct, Master, and/or house.

Start by selecting the direction of our shipment

Select the mean of transportation (OCEAN, AIR, or INLAND)

Specify the Shipment Type (FCL or LCL). 

After entering the shipper and consignee details we need to select the loading and dischare ports. 
4. You will realize that some tab pages has been activated in the form after you saved:
You will be able to check your job profitability on the fly for this 

Still the values are zeros till now cause we didn't generate any recievables or payables for this operation.

Other Tabs needs to be edited to specify more break downs to the operation and its underlying services.
5. Defining containers details in your shipments:
You can define different details about containers required in your shipment as shown in the below form 

Defining different packages (commodities) inside those containers will be by adding different lines of packages (Remeber the packages that we defined in our first step configurations!)
6. Generating containers details from your order:
Remeber the order that has been defined in screen number 3 in this guide! you can call the created number of containers along with their basic details  

You can edit each container details after bieng generated in the containers tab (same in the previous screen in this guide -screen no. 5- )
7. Creating Routing details for the main carraige:
You wil realize that there is a line automatically created under the routing tab - The Main Carraige-  

The main carraige has been created upon you specify the main loading port and discharge port in the header of the form (Check Screen no. 2 in this guide)
8. Editing the main carraige line in routing :
You have the possibility to edit the main carraige record and add some further details like: shipping line, voyage no., Estimated time of departure, estimated time arrival...etc  
9. Adding packages to the main carraige :
upon scrolling in the same form, 2 tabs are available for you to add their details, Packages and service

You can select from the containers (along with their underlying packages) that has been defined earlier in the containers tab (screen no. 6 in this guide)
10. Selecting available containers:
When you click on add line under the packages tab, you will find a list of available containers (This list will only depend on containers defined for this particular operation only)

You may select all the containers available or some of the

Save and return back to your routing form, getting ready to add the required services for this route in the next screen
12. List of all services and generating recievables and payables:
Now we have entered all our services in this route (also if we added more routes like: Pickup route, precarraige route, delivery route) along with their services.

All the services for the whole operation will apear here under this tab (services) for the whole operation.

You will be having two buttons under services tab to generate both, recievables and payables for this operation, for you to invoice your customer and register your vendor billing accordingly, and give you some payments followups latter.
13. Checking recievables and payables for individual operations:
Two smart buttons for recievables and payables that      has been generated with reference to (screen no. 12 in this guide).

Clicki on the smart buttons and create invoices accordingly.
14. Invoicing for operation:
Select recievable/payable records required and from the action button recive or create invoice and have your customer invoices and vendor billed recieved in seconds.
15. Checking your operation profitability on the fly:
Now it's time to look at the P&L overview tab that we have mentioned earlier (screen no. 4 in this guide) undr the operation but now with numbers.that make sense
16. All operations profitability report:
The tree view for all operations we created and fulfilled can be in this report.

A full insight for all operations profitability, payment expectations as well as the actuals can be seen through this powerful insight view.

Thanks to Odoo grouping and filters that also could be used here in this tree view, to give you more consolidated view.
Mail: Sales@kware-eg.com
Tel: +20 1202110076
         
Please log in to comment on this module
The author can leave a single reply to each comment.
This section is meant to ask simple questions or leave a rating. Every report of a problem experienced while using the module should be addressed to the author directly (refer to the following point).
If you want to start a discussion with the author or have a question related to your purchase, please use the support page.