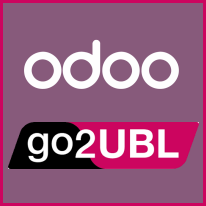 You bought this module and need support ? Click here !
Technical name
account_invoice_ubl_import
License
See License tab
Website
https://www.odooexperts.nl
Read description for

v 12.0

v 11.0

v 10.0

Required Apps
•

Sales Management (sale)


•

Invoicing (account)



Verwerk automatisch je leveranciersfacturen.
Odoo ontvangt en verwerkt je factuur van je leverancier volledig automatisch.
Gekoppeld aan GO2UBL
Go2UBL de perfecte partner voor het converteren van je facturen naar UBL
Ontvangen UBL facturen worden direct verwerkt tot een leveranciersfactuur. Stuurt uw leverancier nog geen UBL factuur, dan stuurt Odoo de factuur door naar Go2UBL. Go2UBL converteerd de factuur naar UBL en stuurt deze terug naar Odoo. Odoo verwerkt de factuur verder.
Papierloos en geatomatiseerd werken
Stop nu met al dat papierwerk en laat Odoo het werk voor je doen.
Bespaar op verwerkingskosten
Ellimineer de arbeidintensieve uren voor het invoeren en verwerken van de leveranciersfacturen.
Sneller up-to-date
Door de geautomatiseerde verwerking hoef je nooit mer te wachten. Je hebt direct inzicht in je bedrijfskosten.
Verminder fouten
Het automatiseren van de stroom leveranciersfactuur scheelt niet alleen tijd. Je beperkt ook het aantal invoerfouten.
Dependencies
Om deze module te gebruiken zijn er twee extra python libraries nodig, namelijk xmltodict en pdkit. Je kan deze installeren door het volgende commando uit te voeren:
sudo pip install xmltodict pdfkit

For copyright information, please see the COPYRIGHT file.

This Odoo App is published under the Odoo Experts License v1.0, as included 
below.

********************************************************************************

Odoo Experts License v1.0 Copyright (C) 2016 Odoo Experts Netherlands

By purchasing this Odoo App from Odoo Experts Netherlands, you agree to the 
following: 

This license agreement (hereinafter Agreement) is an agreement 
between you (the person or company who is being licensed to use the Software or 
Documentation) and Odoo Experts Netherlands (hereinafter We/us/our). The 
Agreement applies to the Odoo App where this license is added.

1. By purchasing the Software you acknowledge that you have read this Agreement, 
and that you agree to the content of the Agreement and its terms, and agree to 
use the Software in compliance with this Agreement.

2. The Agreement comes into legal force at the moment when you order our 
Software from our site, download it from the Odoo App Store, or receive it 
through email or on data medium at the our discretion.

3. We are the copyright holder of the Software. The Software or a portion of it 
is a copyrightable matter and is liable to protection by the law. Any activity 
that infringes terms of this Agreement violates copyright law and will be 
prosecuted according to the current law. We reserve the right to revoke the 
license of any user who is holding an invalid license.

4. This Agreement gives you the right to use only one copy of the Software on 
one Odoo installation solely for your own personal or business use, subject to 
all other terms of this Agreement. A separate License should be purchased for 
each Odoo installation. Any distribution of the Software without our consent, 
including noncommercial distribution is regarded as violation of this Agreement 
and entails liability, according to the current law.

5. You may not use any part of the code in whole or part in any other software 
or product or website.

6. You may not give, sell, distribute, sub-license, rent, lease or lend any 
portion of the Software or Documentation to anyone. You may not place the 
Software on a server so that it is accessible via a public network such as the 
Internet for distribution purposes.

7. You are bound to preserve the copyright information intact.

8. We reserve the right to publish a selected list of users of our Software.

9. We are not liable for prosecution arising from use of the Software against 
law or for any illegal use.

10. If you fail to use the Software in accordance with the terms and conditions 
of this License Agreement, it constitutes a breach of the agreement, and your 
license to use the Software is revoked.

11. Odoo Experts reserves the right to change this license agreement at any time 
and impose its clauses at any given time.

12. It is allowed to change the 
software according to your needs. But only in respect of the terms of this 
license.

THE SOFTWARE IS PROVIDED "AS IS", WITHOUT WARRANTY OF ANY KIND, EXPRESS OR 
IMPLIED, INCLUDING BUT NOT LIMITED TO THE WARRANTIES OF MERCHANTABILITY, FITNESS 
FOR A PARTICULAR PURPOSE AND NONINFRINGEMENT. IN NO EVENT SHALL THE AUTHORS OR 
COPYRIGHT HOLDERS BE LIABLE FOR ANY CLAIM, DAMAGES OR OTHER LIABILITY, WHETHER 
IN AN ACTION OF CONTRACT, TORT OR OTHERWISE, ARISING FROM, OUT OF OR IN 
CONNECTION WITH THE SOFTWARE OR THE USE OR OTHER DEALINGS IN THE SOFTWARE.


Please log in to comment on this module
This section is meant to ask simple questions or leave a rating.
This author can leave a single reply to each comment.
If you want to start a discussion with the author or have a question related to your purchase, please use the support page.