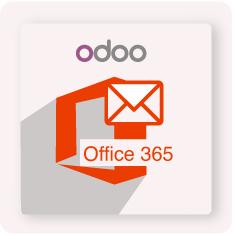 You bought this module and need
support
?
Click here!
Odoo Office365 Mail Connector
Ksolves Office 365 Mail offers a two-way synchronization of emails with Odoo and Office 365 accounts with just one click. With single-click synchronization, it offers the Odoo users with an effortless experience. In conjunction with the features of Ksolves Office 365 Base, it enables the complete control of customer emails without a miss.
Problems/Solutions
PROBLEM:
Earlier users had to manage the mail at two places i.e. Odoo message and Outlook
SOLUTION:
Ksolves Office 365 Mail offers users the option to select which way to sync through a single click
PROBLEM:
Only unread mail can be fetched
SOLUTION:
Ksolves Office 365 Mail gives the feature to sync read/unread emails X days old only
PROBLEM:
No separate views for the previously sent or incoming mails from outlook mails
SOLUTION:
Office 365 Mail lets users easily view the previously sent or inbox mail
PROBLEM:
Odoo doesn't have a filter for displaying inbox/sent mail
SOLUTION:
Office 365 Mail provides a filter for displaying inbox/sent mail
Note:
Extensively Tested on Odoo Vanilla with Ubuntu OS
Ability to select which way to sync through a single click.

Manageable through a single console along with other Ksolves Office 365 apps.

Makes use of powerful features of Office 365 Base.

Ability to sync only the latest emails.

Sync email based on the number of days assigned.

Separate views for the previously sent or inbox mail
Detailed logs available for syncing operations done.

Advanced search and filter mechanisms for logs analysis.

Filter out the emails to be synced.

Users can sync according to their choice with the help of filters.

Configure and restrict syncing options.

Unread synced mails are shown in the Inbox of the discussion module.
Authentication
Login to your Microsoft account and visit portal.azure.com

Click on Azure Active Directory > App registrations > New Registration

Now, you will be asked to enter name, redirect uri for your App.
Redirect uri must be http://your-base-url/office365/callback (this will be used for authentication) and click Register.

Now, Go to Certificate & secret > and create a new client secret. Copy the value of the client secret (this will be used for authentication).


Go to Overview and copy value of Application ID (this will be used for authentication).

Go to View API Permissions > Add permission > Microsoft Graph > Delegated Permissions and choose required permissions and click Add permissions at the bottom, as shown below


Provide ReadWrite permission for mail

This is how the permissions will look like:

Once you installed the Mail module, now go to Settings > Users > your-admin-account. In Access Rights set 'Office365 Rights' to 'Office365 Manager' and refresh the page. (Only manager has the right to authenticate the connector, other users will just sync their record)


Access Rights must be given according to the User access. Manager level access can access Office 365 settings and authentication.

Users having Access rights of office365 User are only allowed for syncing.

Go to Users & Companies > Office365 Settings and set Client ID, Client Secret and Redirect URL (all these are already generated from the azure portal. User have to just copy them here) and click save.



Manager level access (Odoo Admin) can access the office 365 utilities from settings as well as from the side menu.

Click on the generate token button as shown below -
Note: Every User Must Generate the token by himself as it Authenticate the User's Credentials
You will be asked to give permission for the apps you have installed with this base module. Click on the Yes button in order to proceed further.

Click on the Menu office365 > Logs . It will display as Token generated successfully.
Office 365 Mail Features
Click on the Office 365 menu.

Click on Office365 Mails tab.

User will have multiple filters to sync the Mail, there will be two buttons to sync Mails from Office 365 to Odoo and vice-versa. If user wish to sync only latest Mails, then user need to input the days in order to sync those Mails.

Further, if user wish to filter user's Mails then user can choose a Folder wise filter to get the Folder specific mails. This is only applicable from Outlook to Odoo.

Click on the button to import mails from Office 365.

Syncing Outlook Mails to Odoo
Click on 'Import mails from Office 365' to synced Office 365 mails into odoo Discussion, as shown below


The above mail displaying in the Inbox is synced into the corresponding Inbox channel.
Now, user will be redirected to the logs with details of all the Mails that are synced.

Job Processes Working
User can keep an eye of their previously successful or unsuccessful jobs by visiting Jobs menu on the top.
For any unsuccessful job, user can see how many records are processed and the corresponding reasons for the failures.
Automatic Syncing
User can manually sync user Mails or user can activate cron to do syncing automatically. There are separate jobs for syncing user's mails from Odoo to Microsoft Mails and then vice-versa. To activate cron please follow the following steps -
Go to Settings, and then Activate the developer mode

Now go to Technical > Scheduled Actions > Office365 Syncing Cron as shown below


User can activate the Import cron for syncing from Office 365 to Odoo by clicking the Off button, as shown below.

When the Cron Job is activated, button Changes to On. User can also Set the time interval for execution of cron job. (By default it is in Day).

Now syncing for all the users will be performed after the given interval.
Latest Release 1.1.2
13th March 2020
Enhancement - Added Category functionality in Mail module in which user can sync only selected Mails.
Release 1.1.1
22nd Jan 2020
Fix- Added cc and bcc for mails from sent folder
Release 1.1.0
09th Jan 2020
Fix- Removing the Export feature as it only saves the draft mails
Is this app compatible with Odoo Enterprise?

Yes, our app works with Odoo Enterprise as well as Community.

Need some customization in this app, whom to contact?

Please drop email at sales@ksolves.com or raise a ticket through Odoo store itself.

Do you provide any free support?

Yes, we do provide free support for 90 days for any queries or any bug/issue fixing.

Does it supports multi-company setup?

No, multi-company setup is not supported.
FREE 90 DAYS SUPPORT
Ksolves will provide FREE 90 days support for any doubt, queries, and bug fixing (excluding data recovery) or any type of issues related to this module. This is applicable from the date of purchase.
Ksolves Odoo Services
Odoo Implementation
Odoo Community Apps
Odoo Support & Maintenance
Odoo Customization
Odoo Integration Services
Odoo Developer Outsourcing
sales@ksolves.com
+91 120-4299799‬
Odoo Proprietary License v1.0

This software and associated files (the "Software") may only be used (executed,
modified, executed after modifications) if you have purchased a valid license
from the authors, typically via Odoo Apps, or if you have received a written
agreement from the authors of the Software (see the COPYRIGHT file).

You may develop Odoo modules that use the Software as a library (typically
by depending on it, importing it and using its resources), but without copying
any source code or material from the Software. You may distribute those
modules under the license of your choice, provided that this license is
compatible with the terms of the Odoo Proprietary License (For example:
LGPL, MIT, or proprietary licenses similar to this one).

It is forbidden to publish, distribute, sublicense, or sell copies of the Software
or modified copies of the Software.

The above copyright notice and this permission notice must be included in all
copies or substantial portions of the Software.

THE SOFTWARE IS PROVIDED "AS IS", WITHOUT WARRANTY OF ANY KIND, EXPRESS OR
IMPLIED, INCLUDING BUT NOT LIMITED TO THE WARRANTIES OF MERCHANTABILITY,
FITNESS FOR A PARTICULAR PURPOSE AND NONINFRINGEMENT.
IN NO EVENT SHALL THE AUTHORS OR COPYRIGHT HOLDERS BE LIABLE FOR ANY CLAIM,
DAMAGES OR OTHER LIABILITY, WHETHER IN AN ACTION OF CONTRACT, TORT OR OTHERWISE,
ARISING FROM, OUT OF OR IN CONNECTION WITH THE SOFTWARE OR THE USE OR OTHER
DEALINGS IN THE SOFTWARE.


Please log in to comment on this module
The author can leave a single reply to each comment.
This section is meant to ask simple questions or leave a rating. Every report of a problem experienced while using the module should be addressed to the author directly (refer to the following point).
If you want to start a discussion with the author or have a question related to your purchase, please use the support page.